Site Admin

Posts: 937
Joined: Thu Apr 08, 2010 11:06 pm
Last_Name: Schlee
Year: 2010
Make: Subaru
Model: Impreza WRX Limited
Colour: World Rally Blue
Horsepower: 265
Torque: 244
Modifications: A Mildly Louder Exhaust, Rear Swaybar, flaps to keep down the snow and HIDs
Quarter_Mile: 13.5 @ 103MPH
Grip: 0.87g
Location: Toronto, Ontario
Contact:
I can't take away all the BS social networking stuff....but I can add whatever I want as fields in the car section. Do I have too many? Should I add anymore fields?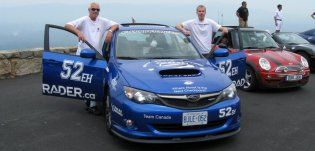 If you are not having fun, you are doing it wrong
---
2 Cylinder 2 Stroke - 40HP

Posts: 65
Joined: Mon Jan 02, 2012 5:54 pm
Year: 2005
Make: Chevy
Model: SSR
Colour: Slingshot Yellow
Horsepower: 395
Torque: 300
Modifications: No modifications yet. This is a rare 6 speed (~1,800 were made). I am planning on changing the gearing from a 373 to 456
Contact:
I would like to add a photo and some information on my profile, but I am having problems. Can someone send me a message (here or via my email) on how to add photos and other items on my profile?
---
V-Twin - 85HP

Posts: 211
Joined: Mon Dec 26, 2011 11:04 am
Year: 2010
Make: Ford
Model: Mustang
Colour: Black
Horsepower: 315
Torque: 0
Modifications: Steeda CAI, Steeda Underdrive Pulleys, Moroso Coolant Expansion Tank, Moroso Power Steering tank, Bama Tunes, Pypes Shorty Headers, O/R X-Pipe, Pype-Bomb exhaust, Foose Legend SS Stealth Wheels, Nitto Extreme NT555 Tires, Cervini's Ram Air Hood, Boss/CS Valance
Quarter_Mile: tbd
Grip: tbd
Location: Tallahassee, Florida
Contact:
I posted on the other thread you asked, if you're still having problems I can help you more later when I get home.
"Remember, in the end, nobody wins unless everybody wins." ~ Bruce Springsteen
---
Users browsing this forum: No registered users and 0 guests