Site Admin

Posts: 937
Joined: Thu Apr 08, 2010 11:06 pm
Last_Name: Schlee
Year: 2010
Make: Subaru
Model: Impreza WRX Limited
Colour: World Rally Blue
Horsepower: 265
Torque: 244
Modifications: A Mildly Louder Exhaust, Rear Swaybar, flaps to keep down the snow and HIDs
Quarter_Mile: 13.5 @ 103MPH
Grip: 0.87g
Location: Toronto, Ontario
Contact: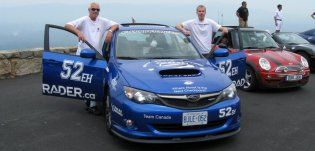 If you are not having fun, you are doing it wrong
---
Turbocharged Inline-4 - 271HP

Posts: 750
Joined: Sat Dec 04, 2010 6:23 pm
Year: 2001
Make: Ford
Model: Mustang
Colour: Electric Green
Horsepower: 0
Torque: 0
Modifications: A whole lot...lol
Location: WV
Contact:
Awesome guys.....thanks for the pic of the car in it.

---
Turbocharged 3 Rotor Rotary - 380HP

Posts: 1161
Joined: Sat Apr 10, 2010 10:36 pm
Last_Name: Dow
Year: 2008
Make: Audi(s) VW, Mini
Model: B7 A4 2.0T/B5 A4 1.8t/Cooper R50
Colour: Black/Silver/Red
Horsepower: 200
Torque: 185
Location: Bangor, Maine
Contact:
looks good! I like the idea of having the newsletter on the site.
Team Mini #37 - 2010-2011
Team G60 #60 - 2012
Team Pine State GTI # 37 - 2013
---
Users browsing this forum: No registered users and 1 guest