I Cylinder 2 Stroke - 5HP

Posts: 25
Joined: Mon Apr 12, 2010 9:07 pm
Last_Name: Scheelar
Year: 1997
Make: Ford
Model: Ranger
Colour: Black
Horsepower: 112
Torque: 136
Modifications: Magnaflow Muffler, headlights, window tinting
Quarter_Mile: scared to find out
Contact:
the rally scene in western canada is kinda lame

nothing ever goes on here, alberta needs a rally!
---
Site Admin

Posts: 937
Joined: Thu Apr 08, 2010 11:06 pm
Last_Name: Schlee
Year: 2010
Make: Subaru
Model: Impreza WRX Limited
Colour: World Rally Blue
Horsepower: 265
Torque: 244
Modifications: A Mildly Louder Exhaust, Rear Swaybar, flaps to keep down the snow and HIDs
Quarter_Mile: 13.5 @ 103MPH
Grip: 0.87g
Location: Toronto, Ontario
Contact:
Well, I know someone tried starting an Alberta rally, but maybe you sould start an inagural one. Even if you get 4 cars, it is a start.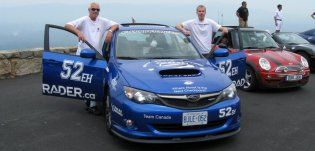 If you are not having fun, you are doing it wrong
---
Users browsing this forum: No registered users and 0 guests