copied from the other forums I have been posting it on
Prestart
We started leaving early, had a bunch of running around to do stateside before we hit the road.
Cockpit shot - we had 2 Laptops, a GPS, CB, and a few other goodies, but you get the idea
Trip there was pretty uneventful. Made good time, got good mileage, all the boring details no one wants to hear about
We arrived at our hotel (Motel6 Joliet, IL) and checked in just in front of Team GTO (Scott & Patti)
A few of the teams were already there, some were a little late (Rush Hour).
On the way to the steak house, we saw Rush Hour heading towards the hotel, so we flipped a bitch, and chased them down. We told them where dinner was, and then headed off the steak house.
Prestart pictures
Day 1
The next morning, we all headed to the starting point, Route 66 Raceway, just outside of Joliet, IL
Got to line up w/ Ryan (Team NSX B******* S3) at the start... the camaro didnt do so well LOL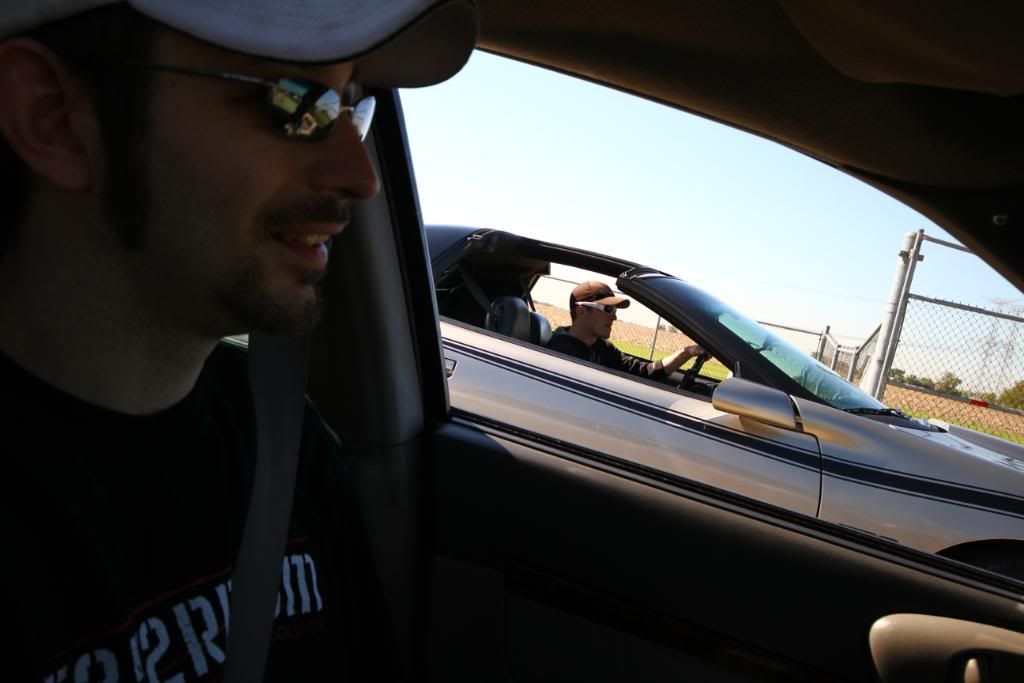 Check points from Day 1:
Ambler-Becker Gas Station Dwight, IL
Memory Lane – a stretch of preserved original Route 66 Near Lexington, IL
Lincoln's Tomb in Springfield, IL
Finish: Zeno's Motel & Steak House Rolla, MO
We met up w/ Mark and Julia (Team HemiCuda from B******* S3)
After dinner TJ, Brad, and myself went to shoot some video of TJ driving the piss out of Julia's 350z
more pix from day 1
Scott, Julia & Mark (Team HemiCuda B******* S3) team BMW, Tony (Team Mach1 B******* S3)
Day 2
This day started a bit more hectic for Team Slopala. While out messing around the night before the alt. decided it didn't like life, so it committed suicide. It had acted up once before @ home (not enough volts) but when it dried out (also raining on both occasions) it was fine. This wasn't the case here. The first place we started was O'Reilley, the counter guy was a real douche, I told him I needed an anlt for any W body 3.8 from 98-05, I know there are slight differenced, but we were in a pinch. After arguing for a few mins he said he needed to see the car, then promptly said he didn't have anything for us. Next was Autozone. Thank god for the guys there. Told the guy the same info, he started looking up random W's, and found a 9c1 alt, as soon as he said he had one, I ran out and started pulling ours. Got the new alt in and realized that the terminals were roatate aprox 90* from where they were on mine. This put the power lead DAMN close to the blower, but we got it to work…
Raced back to the starting line, just as people were starting to leave…. WHEW!
mmmmmm new 9c1 alternator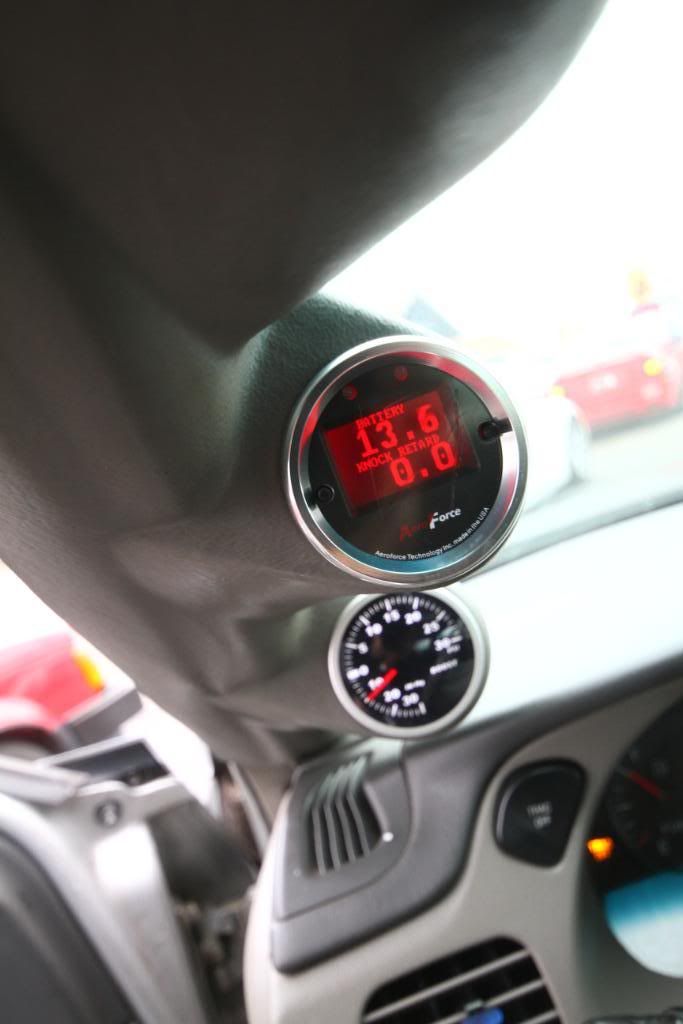 Weather
This was the start of a very bad/long day for us. Other notable things were heading to the wrong city/state for a check point, and the infamous roller coaster road/header incident as seen in the pic of the 3rd check point. Gas mileage had gone from ~28mpg down to 22mpg 
Day 2 Checkpoints
Elbow Bar & BBQ Pit Devil's Elbow, MO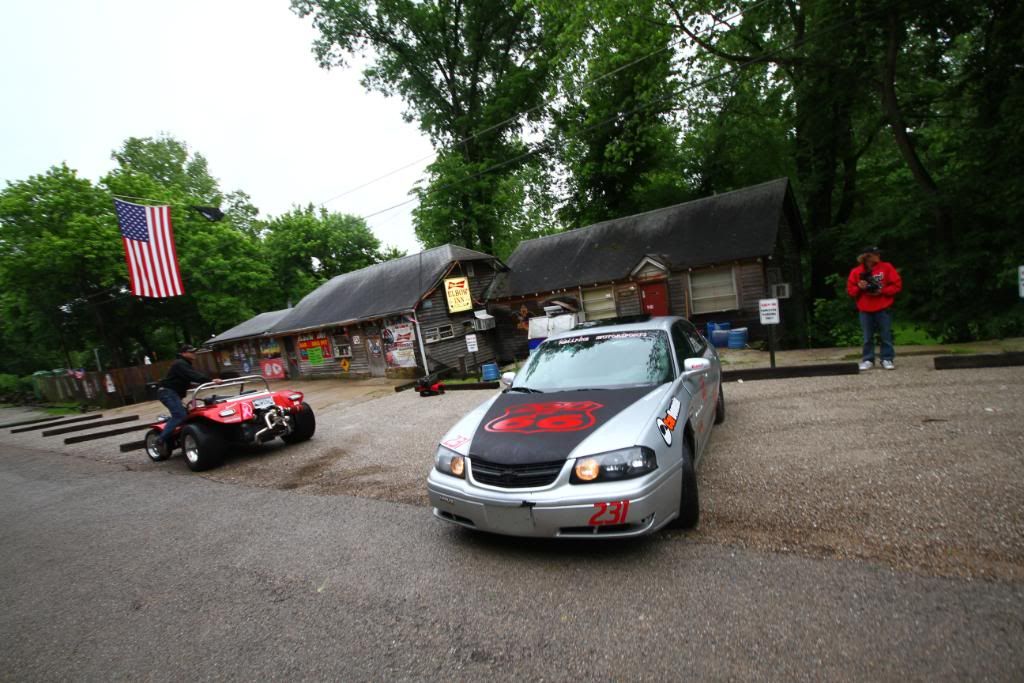 2 Storey General Store in Phillipsburg MO
Four women on the route in Galena KS, we had accidently headed towards Galena, MO @ first, but caught it before we were too far out
checking for exh leak :P
Finish: Cherokee Inn Tulsa (Catoosa) OK
Day 3
After the bad day we had on day 2, we decided we weren't out of the race… yet….
We pushed harder than we did on any other day…
Pretty uneventful other than the massive exhaust leak we had. We rolled with Team Disgruntled, until they got pulled over ;)
Check points:
The Round Barn Arcadia
National Route 66 Museum Elk City
Tower Station and U Drop Inn Shamrock, TX
Finish: The Big Texan Motel Amarillo, TX
Driving thru the canyon in TX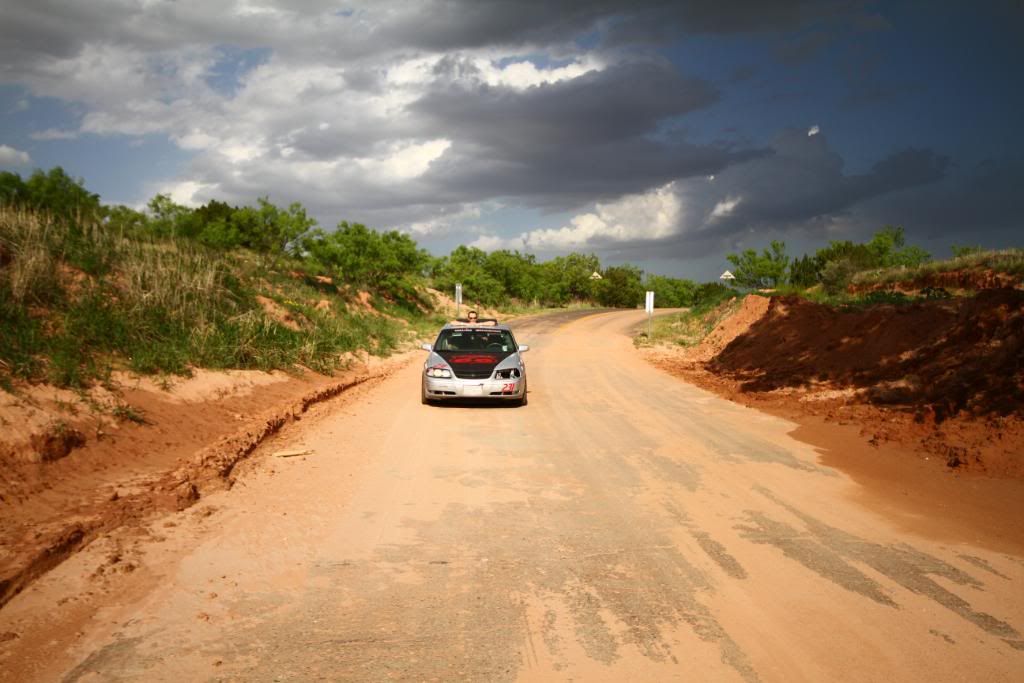 Me & Jonny B. (B******* S3)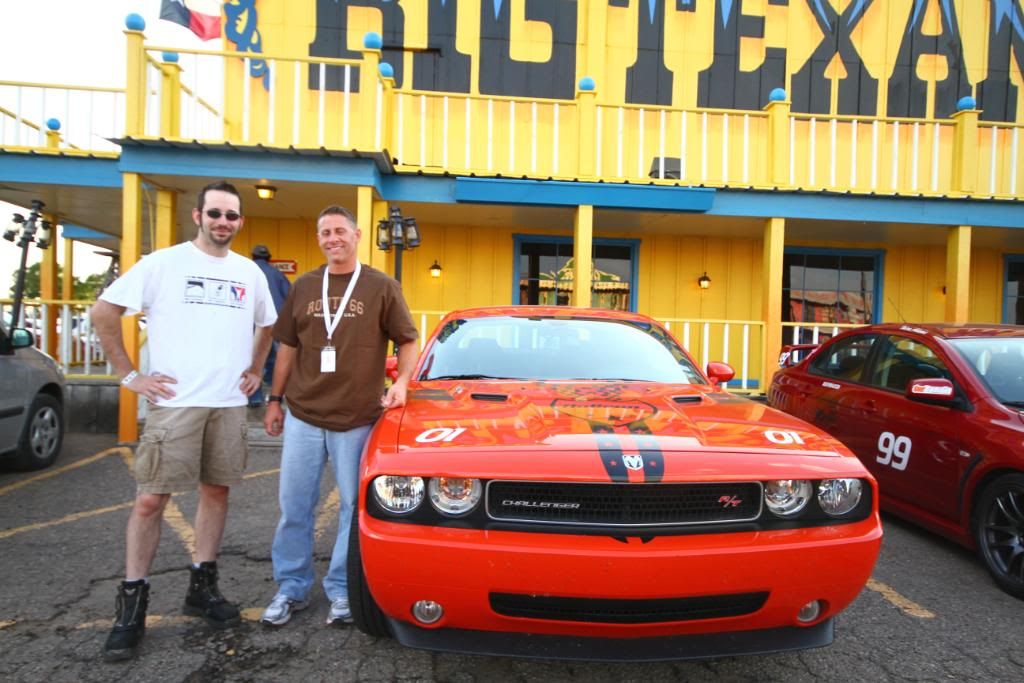 Brad and his HUGE buffalo burger
Tony, Sway, and I
Bullriding FTW
Brad fingering our trophy
WOOT!
The ride home:
This is where the shite hit the fan. Once in OK we started getting misfires/rough running. Tired diagnosing the issue w/ the aid of my Aeroforce, but it wasn't helping much. Team GTO saw us on the side of the road and stopped to lend hand (thanks AGAIN Scott). They led us to Chandler, OK which had a parts store, a hotel, and surprising enough, a GM dealer, and the worlds BEST pizza. Ok maybe not the best but when you're broke down in a hotel parking lot working on a car for 6-8 hours, it sure seemed like it.
Turns out the car not getting enough back pressure from the down pipe being blown out was causing backfiring/rich conditions. Rich enough that flames were shooting out of the car, and Team GTO was worried about the whole car going up in flames. The flames also decided to melt the vacuum lines in the car as well. We ended up "fixing" the issue but gear clamping what was left of the flex pipe around the down pipe and cutting the melted sections of vac line and re-routing everything. Car was ready to fire up around Midnight, however the battery was not. We had left the laptop plugged in and it had drained the battery, so a call to AAA, and just over an hour later we were on the road. Mind you the car wasn't any where 100% (prob not close to 50%) but it was good enough to get us home. Anything over 4" of vac or into boost, and the car would hesitate/miss. But once up to speed we were ok and cruising at ~ 80-85 the whole way home. We even got around 25mpg on the way home…
Scene of the day for the ride home Sat
Fixing the car HOURS after last pic in Econolodge in Chandler, OK
Part of the damage
FINALLY - home again
In short, Thank you Tony and Scott for putting together such a kick ass event! Thanks to Brad for everything! Thanks to Team Disgruntled for getting a ticket so I wouldn't.
It was great meeting everyone, I can't wait till I get to do this again!
Kenny, it was great meeting you, wish we had more time to hang out... It seems like the hotels we were in didnt know what wifi was for the most part, and my cell wouldnt work 90% of the trip :P
Cliff notes:
kick ass cars
cool people
placed 1st in the first leg, still waiting for the overall results
cant wait till i can do it again
These are only some of the pix, to view all my uploaded ones go here:
http://s8.photobucket.com/albums/a17/04 ... oute%2066/
there's a folder for prestart, day1, day2, day3, and trip home